LAHORE: Funeral prayers for Begum Kulsoom Nawaz were offered at Sharif Medical City on Friday. The funeral prayers were led by Maulana Tariq Jameel. She will be laid to rest in Jati Umra next to the resting place of her father-in-law Mian Sharif and brother-in-law Abbas Sharif.
Kulsoom Nawaz, the wife of former prime minister Nawaz Sharif passed away in London on September 11 after a year-long battle with cancer. Her funeral prayers were offered in London on Thursday following which Kulsoom Nawaz's body was flown to Lahore.
The funeral prayers will be attended by Sharif family members excluding Begum Kulsoom's son Hassan and Hussain Nawaz.
Pakistan Peoples Party (PPP) leaders Khursheed Shah, Qamar Zaman Kaira have arrived to attend the funeral prayers. MQM-P leader and federal minister Khalid Maqbool Siddiqui and PkMAP chief Mehmood Khan Azhakzai, Punjab Assembly speaker Chaudhry Pervaiz Elahi , Chairman Capital TV Riaz Sheikh and PML-Q leader Chaudhry Shujaat Hussain are also attending the funeral prayers.
The leadership of the Pakistan Tehreek-e-Insaf including Punjab Governor Chaudhry Sarwar and NA Speaker Asad Qaiser are also attending.
Earlier on Friday, After her body arrived at Sharif Medical City, Nawaz, daughter Maryam Nawaz and Capt (retd) Mohammad Safdar who have been released on parole, were taken to the medical facility to pay their last respects.
On Thursday night, the Punjab home department issued a notification announcing an extension in the parole already awarded to Nawaz, Maryam and Safdar from September 12 (4pm) to September 17 (4pm).
Nawaz, Maryam and Capt Safdar had been sentenced to jail by an accountability court weeks before the July 25 polls in the Avenfield property reference.
The body of the former first lady, was moved to Sharif Medical City in Jati Umra almost half an hour after a flight carrying it from London landed at Allama Iqbal International Airport on Friday morning.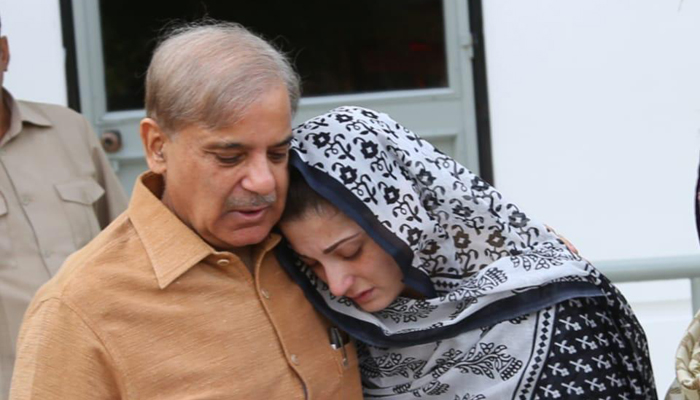 Shehbaz Sharif, the deceased's brother-in-law and president of the Pakistan Muslim League-Nawaz (PML-N), along with Begum Kulsoom's daughter Asma, grandson Zayd Hussain Sharif (Hussain Nawaz's son), and 11 other family members accompanied the body to Lahore.
Hassan and Hussain Nawaz, Begum Kulsoom's sons, have not returned to the country for their mother's funeral.